I really hate to do this, but I have to sell my rare copies of KERA with Kyo (Dir en grey) on the cover. I have listed both together on eBay. These are out of print, and VERY difficult to find! I will ship anywhere in the world! Please take a look at the auction: HERE!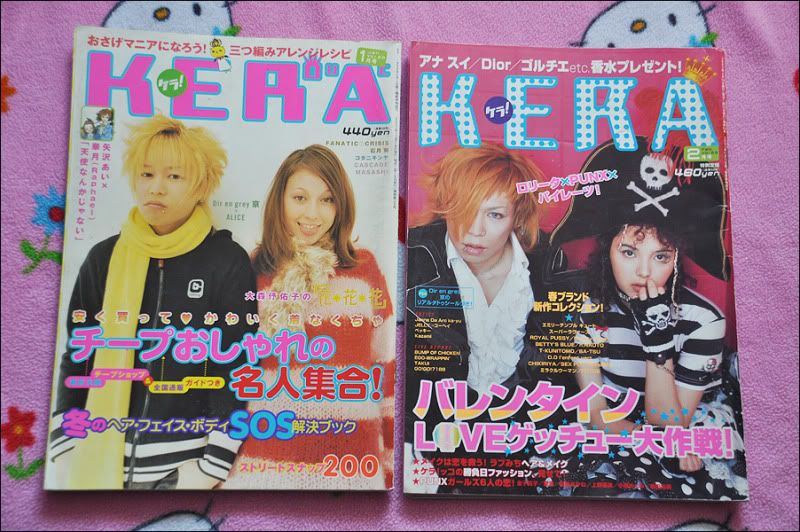 I am also directly selling my entire KERA collection, from issue #1 to #113, including Maniax #1 to #7.8, and all side mooks (KERA Boys, room snaps, etc). Many of these are VERY difficult to find, so if you're a KERA fan, or Japanese fashion/music fan in general, please take a look! :]


- Please don't hesitate to ask if you'd like any additional photos or information.
- If you are in the US, you may choose Bound Printed Matter (Media Mail for magazines), but usually flat rate Priority Envelopes/Boxes actually end up being cheaper. Everything will ship with delivery confirmation.
- Generally, 1-3 magazines can fit in a flat rate envelope, depending on the issues in question. Flat rate boxes can hold roughly 8-10 issues, depending on size.
- Outside the US, shipping will be a bit more. Please inquire with your location!
- I will discount shipping on multiple purchases!

- Condition: None of these magazines have any serious damages. Some do have some wear on the covers, but this is only cosmetic. I briefly skimmed through those that I acquired used and took note of any damages that I found. However, please don't hesitate to ask if you have any other questions about anything.

Volume 7 has a rectangle cut out of page 109. The exacto knife(?) left cuts in page 111.
Volume 23 has a corner cut out of the bottom of one page.
Volume 32 is missing 1 page.
Volume 39 has a significant amount of wear on the cover, though is great on the inside. It will come with a plastic sleeve I've been keeping it in to try to minimize wear.

*Listed from left to right, top to bottom!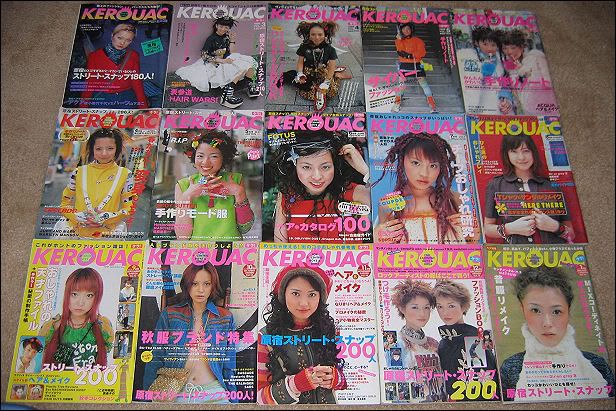 *$5 each except for #1
1 ($15), 3, 4, 5, 6,
7, 8, 9, 10, 11,
12, 13, 14, 15 (x2), 16 (x2)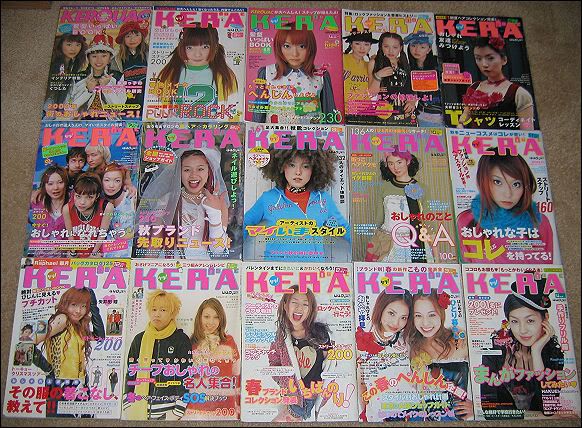 *$5 each except for #28
17, 18, 19, 20, 21,
22, 23, 24, 25, 26,
27, 28 [buy HERE], 29, 30, 31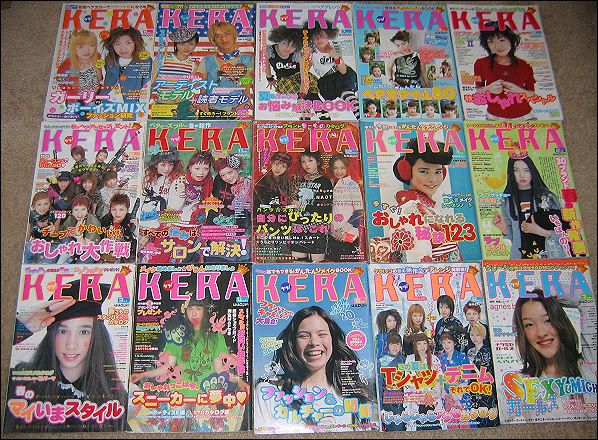 *$5 each
32, 33, 34, 35, 36,
37, 38, 39, 40, 41,
42, 43, 44, 45, 46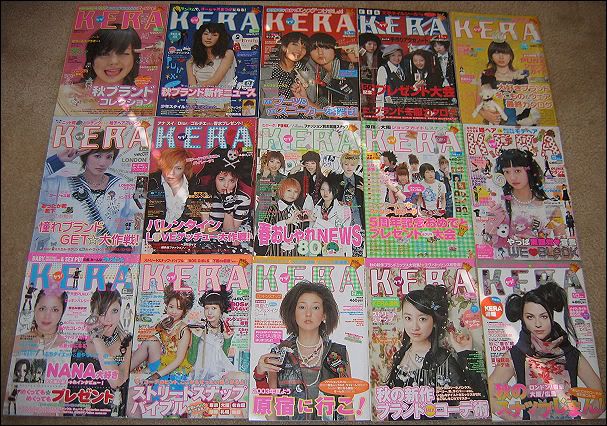 *$5 each except for #53
47, 48, 49, 50, 51,
52, 53 [buy HERE], 54, 55, 56,
57, 58, 59, 60, 61,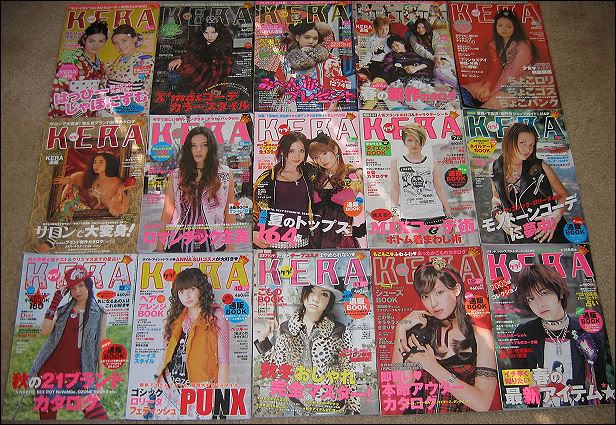 $6 each
62, 63, 64, 65, 66,
67, 68, 69, 70, 71,
72, 73, 74, 75, 76,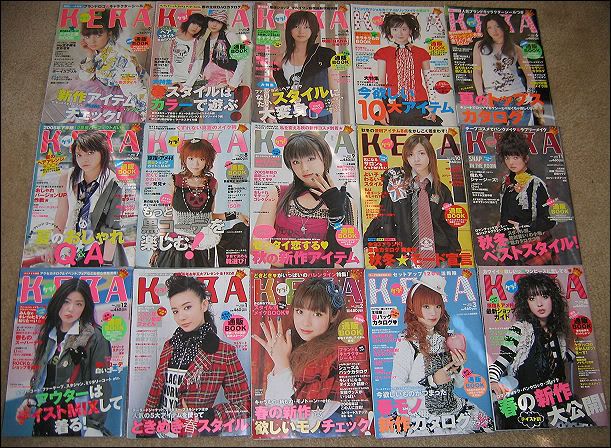 $6 each
77, 78, 79, 80, 81,
82, 83, 84, 86, 87,
88, 89, 90, 91, 92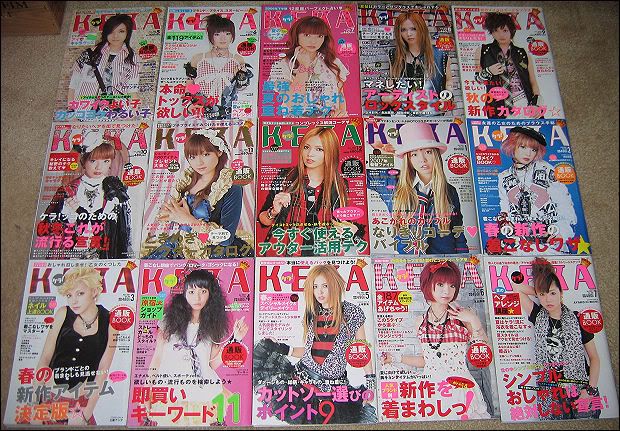 $7 each
94, 95, 96, 97, 98,
99, 100, 101, 102, 103,
104, 105, 106, 107, 108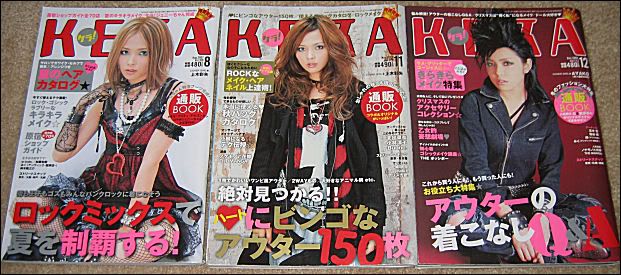 $7 each
109, 112, 113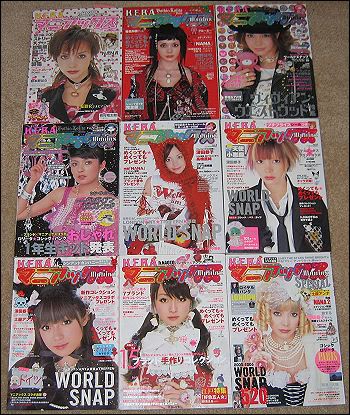 *No pages, stickers, or patterns are missing! All in wonderful condition. $14 each
Maniax 1, Maniax 2, Maniax 3,
Maniax 4, Maniax 5, Maniax 6,
Maniax 7, Maniax 8, Maniax 7.8 Special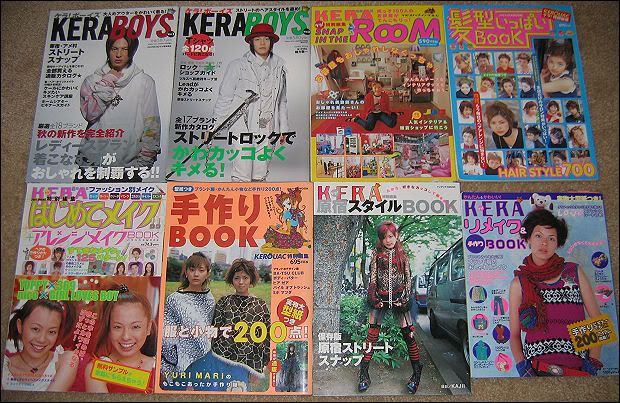 *All in wonderful condition, no missing/torn pages. These side books are out of print and difficult to find. $20 each.
- KERA Boys Volume 1 :: Very much like KERA, except focuses on men's fashion. Tsukamoto Takashi on the cover + 4 page spread, street snaps, brand ads and models, hair styles, health & beauty tutorials, features on electronics and movies [Sin City, NANA, Charlie and the Chocolate Factory, Brothers Grim, Corpse Bride, FFVII, and lots more], shopping lists, and celebs [Anna Tsuchiya, Joel of Good Charlotte, Fumas, and more]. 146 pages.
- KERA Boys Volume 2 :: Features Ryuichi Ogata on the cover + 4 page spread, brand ads and models, store locations and profiles, feature on electronics, concerts and musicians [Miyavi, Anna Tsuchiya, Aya Kamiki, Red Hot Chili Peppers, Summer Sonic 06 tour, and more], street snaps, movies and anime [Death Note, Paradise Kiss, Casanova (Heath Ledger), The Libertine (Johnny Depp), and more] health & beauty tutorials, hair styles, shopping lists. 138 pages.
- Snap in the Room :: A book of "room snaps" -- follow tons of people into their apartments/rooms to see how they've decorated. Lots of inspiration and interesting ideas for decorating your place. 98 pages.
- Kamigata Ippai Book :: Simply, a book of hair styles. There are some tutorials for make-up, grooming, and styling. Book contains 706 head shots/hair styles. There is a two-page advice column in the back. VERY good inspiration if you ever find yourself contemplating a new hair-do. 138 pages
- Hajimete Make-up Book :: Book of make-up. Tons of different styles and looks [goth, punk, alternative, cute, girly, etc!], products, health&beauty/cosmetic tutorials, hair and make-up Q&A, tons of looks and face snaps, including Megu of Zwei and a few other familiar faces. 130 pages
- Tezukuri Book :: Patterns and instructions for making the different outfits featured in the book. Features clothing and accessories designed by Ai Yazawa, Ba-tsu Club, Miho Matsuda, Body Butter, Here and There, a gothic wedding dress designed by Malice Mizer's costume planner, and more. Includes sewing and knitting patterns for tons more stuff - panda bear head tote, beanie hats, tops, hooded cape and vest, etc. Many street snaps and clothing being modeled as well. The fold-out patterns are for six items -- a fuzzy vest [p.10], Chinese style blouse from Body Butter [p.17], Room Shoes from Miho Matsuda [p.20], head dress, corset top, and brooch from Ai Yazawa [p.24], pink leopard faux fur hooded cape [p.68], and bloomers/pantaloons for the gothic wedding dress [p.28]. 102 pages
- Harajuku Style Book :: A snap book that covers all four seasons [Winter, Spring, Summer, and Autumn], as well as a section dedicated to celeb street snaps [Hakuei, Daigo Stardust, seek of PLC, Megu of Zwei, Maiming, Novala Takemoto, Nana Kitade, and more]. 130 pages
- Remake & Tezukuri Book :: Guide for reconstructing and creating your own DIY clothing. Plenty of brands, a stencil sheet, tons of tutorials for cutting up/reconstructing clothes, DIY materials, shop lists, and patterns. Patterns have not been removed from the book. They're for the items listed on pages 30 and 31: a variety of mini bags, handbags, scarves, and corsages. There are some tops also listed, but not sure if they're included in the patterns. This book features ton of neat ways to reconstruct denim, including a very interesting jean dress. 81 pages


Thanks for looking! <3